Like Lauren
, I LOVE the Olympics!! I'm a huge sucker for "the spirit of the game" and "that defining moment that makes a champion" and all of those cliches that bring tears to hormonal women.
I see all those dedicated parents at the finish lines or in the crowds and I think, "Wow! They've given so much! They must be so proud!" *tear*
I hear the cowbells and the whistles, and I am amazed at people's need to come together as one to support and rally around a small group of individuals representing their country. Patriotism gets me EVERY. SINGLE. TIME. I cry pretty much every time an anthem plays. Bonus points if the Olympians on the podium are crying and/or injured. (
Kerri Strug's
vault victory from 1996 Atlanta games, anyone?)
Anyway, it's a special time for me, and I most definitely intend to pass this love and joy down to my children.
So tomorrow night, in celebration of the Opening Ceremonies, we'll have a whole host of things to eat and do to make it super special for everyone. We are having Hubster's two little sisters (they are about 10 years old) spend the night to share in the fun. Here's what we've got planned:
First up,
Olympic rings pizza
! But, since I have YET to successfully make homemade pizza crust my family will eat, we will either use rolled-out crescent rolls in a jelly-roll pan or do individual flour tortilla pizzas.
To snack on during the games, we'll make some popcorn and serve it up in ice cream cones to make these
super-cute torches
! (Follow that link - so many ideas!)
Oh, and probably some of these
Olympic ring and medal sugar cookies
.
For breakfast Saturday morning, I'm thinking maybe these
fruit bagel rings
, or maybe some scones to represent the Olympics British hosts.
And now that we've tackled the food, how about some fun activities?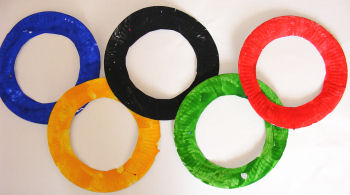 We painted our
paper plate Olympic rings
the other day, and it was such a fun and easy project.
And I saved our empty toilet paper rolls and left-over paint to do this ring stamping project today. On a poster board banner with the words "Go for the Gold", this would make a fun sign above your Medal Tally like the one further down this post.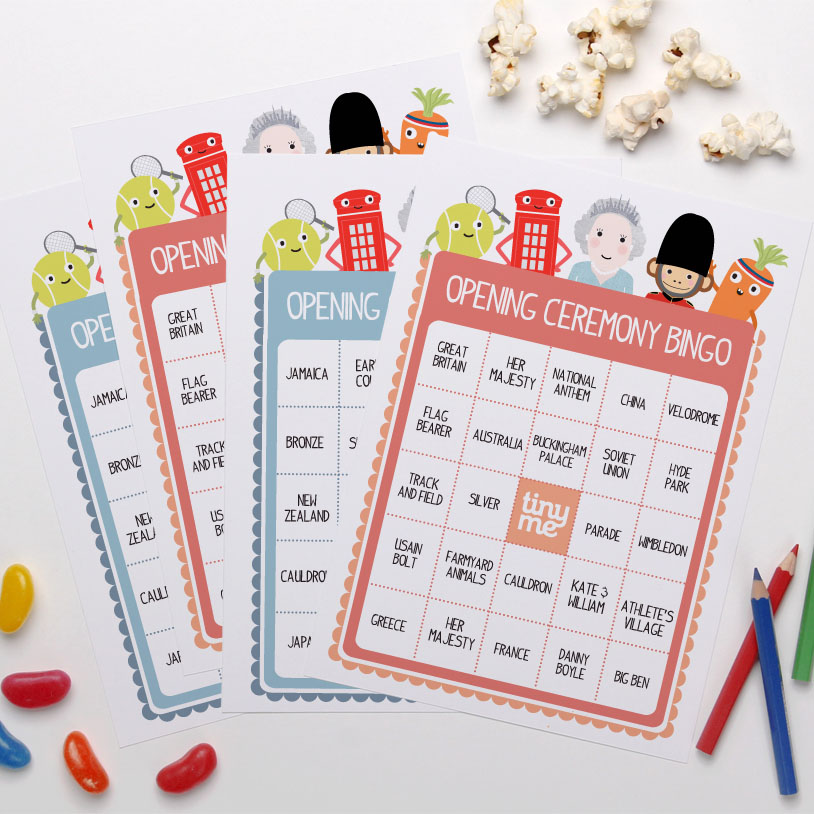 Oh. My. Goodness!! I can hardly stand the cuteness of this FREE printable from
Tinyme
! Opening Ceremony Bingo! You get to look for all kinds of countries, celebrities, and landmarks — talk about a learning opportunity! I've already got them printed and the laminator warming up to make them sturdier for my family. We are
definitely
doing this!!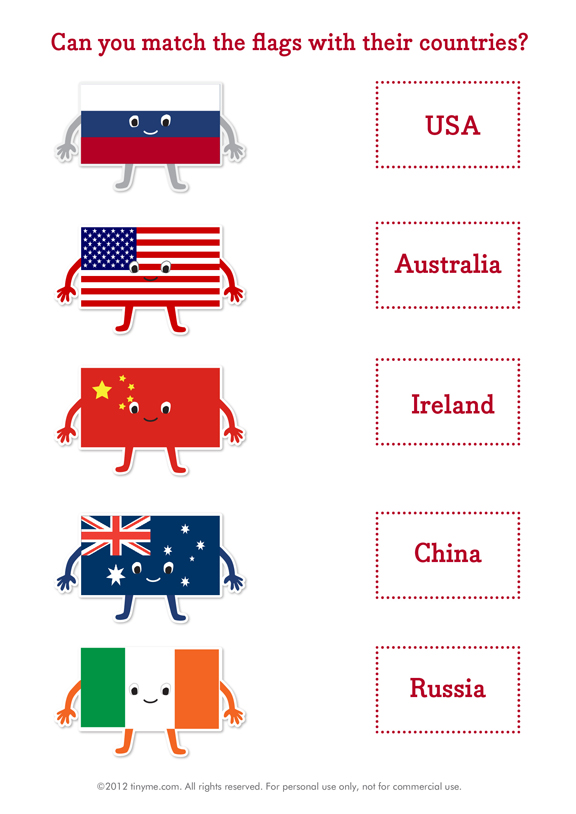 How about this
flag activity
also from Tinyme?! I also got some Flags of the World flashcards from the dollar bins at Target, and we are putting those to lots of fun uses as well. What a great chance to do all kinds of geography, social studies, math, matching, and history lessons!
Here are some
great ideas
for doing just that.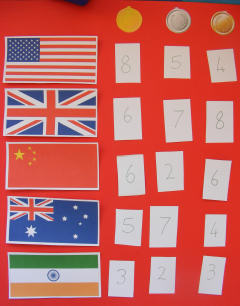 Here's something you can set up to keep track of the
medal count
of all your favorite countries. I showed my daughter all the flags of the world from those flashcards I got, and she picked her favorite countries (outside of the predictable USA, Canada, UK, and Australia). So, because they have neat looking flags, here are the extra countries we'll be keeping our eyes on this Olympic games (none of which are expected to pick up any medals): Ecuador (because of the missionary movie she saw at church last night), Grenada, Marshall Islands, Kiribati, Swaziland, Djibouti (yeah, lots of giggles when I introduced that one), and Sri Lanka. She even drew the flags herself by copying off the cards.
If you want some more facts about London as the host city or statistics about the Olympics, check out the great info-graphics
here
and
here
.
For more ideas for fun and educational Olympic-themed activities, see this
great link-up
and this terrific
roundup of crafts
!
I can just about guarantee that this won't be our last post about the Olympics, so I sure hope you enjoy them as much as we do!